KFC ransom paid to Venezuelan pirates
By: Susan Mohammed
AFTER paying US$12,000, groceries and a bucket of KFC chicken for their lives, the families of Moruga cousins Kenrick Morgan and Kendell Singh reunited with families on Tuesday.
Morgan, 17, and Singh, 24, of Basse Terre, were dropped off on Tuesday evening by their kidnappers at a wreck off the coast of Erin where they were picked up separately by their families and returned to Trinidad by boat.
The families were contacted earlier that day by the kidnappers and given the drop off point for their demands in exchange for the two cousins.
Malnourished for 30 days, Morgan was taken up from Erin beach and almost immediately his family to the Siparia District Health Facility where he was given intravenous fluids for most of the night. He spent a few hours at his sister's home in Princes Town then returned to hospital on Wednesday morning. He reunited with his family at Gran Chemin around 2 p.m.
As the van bringing her son drove into their street, his mother, Linda Boodoo, ran out to meet her son and cried as she wrapped her arms around him.
Other relatives took turns hugging and crying as Morgan entered his home.
Boodoo said she spent the last four week praying and crying for her son.
"Every day I cried. I used to feel like my belly turning up. They said if they didn't get the money they would kill my son. God gave me the faith and courage", she said.
Singh was not at home when the Express visited on Wednesday.
Morgan said he, Singh and a Venezuelan man were held captive by their kidnappers in Maturin, Venezuela.
The teenager said that over the last four weeks they were moved to different locations – a house, a ranch and in the mangroves.
At one time, he and Singh attempted to escape, but were chased and outrun by their kidnappers riding horses.
"The experience was not good at all. We are hardly eating. Plenty mosquitoes. They didn't beat us much. Sometimes we got something to eat in the morning and that was it for the whole day. They wanted their money. The area were were in was only mang (mangrove) and bush. All kinds of things were going through my mind. I think to kill myself, to kill people, to run away, all kinds of things. I kept praying to make it back", said Morgan.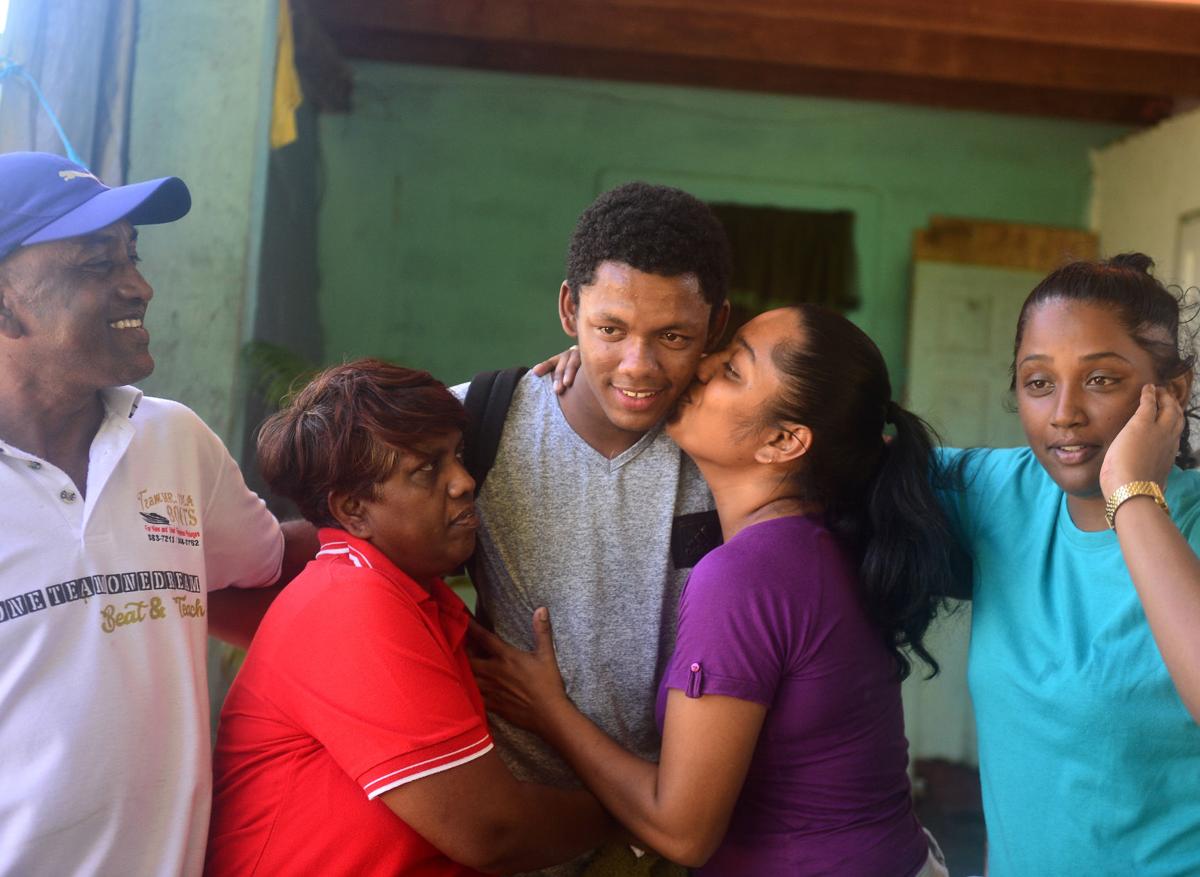 He said that on the night of January 12 when he, Singh and the Venezuelan man were fishing in local waters off Morne Diablo when they fell asleep in the boat. They awoke to see six Spanish-speaking men pointing guns at them. The armed men told the three to jump overboard, but fearing that they would drown, the three told begged the men to take them on their boat.
"They tell us dive over. We begged them and told them to carry us wherever they want to carry us. They carry us to Maturin. They moved us to different spaces. We were in houses, ranch, the bush and all about. About two or three people guarding us", said the teenager.
The kidnappers contacted Singh's family and sent a picture showing a firearm pointed at Morgan, Singh and the Venezuelan.
They demanded US $40,000 for their lives within a week.
After the deadline passed and the money was not raised, the demand was lowered to US$20,000.
Morgan's mother said that the kidnappers contacted them on several time demanding the ransom and she spoke to her son as proof that he was alive.
After two weeks in captivity, Morgan said saw a moment they were left unguarded they tried to escape.
"We started to run and run. My cousin said he couldn't make it anymore and we gave up ourselves. It was about three or four men on horses behind us. When they caught us they didn't beat us or anything", he said.
As the days passed, they were given small meals of arepas, corn dumplings, rice and cheese, and lentil soup. The teenager said that he and Singh were given three dumplings to share between the two of them for the entire day.
Morgan said the kidnappers realized that his family was unable to raise the full ransom demand and renegotiated for their release.
Boodoo said Singh's family raised the $US 12,000.
Source: https://www.trinidadexpress.com/